Nationality: Japanese
Engine: Mazda "Renesis" Rotary
Power: 240 hp (236.72 bhp) (176.52 kw)
Fuel Capacity: 71.92 liters (19 gallons)
Weight: 494.42 kg (1090 lbs)
Top Speed: 153 mph (246 kmh) 
0-60 mph (0-100 kmh) in 3.5 seconds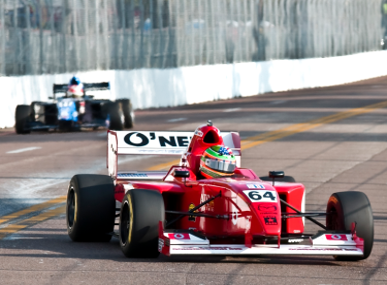 Price: $11.95 USD for Pro Mazda
Difficulty: Clubman
Year: 2008
Type: Open Wheel Racer
Configuration: Rear-Engine RWD
Former Names:
Formula Mazda (2008 – 2009)
Star Mazda (2010 – 2014)  
Bio: The mighty Rotary engines Mazda have been using since the 787B gives the Pro Mazda a speed over 150 mph. The weight is only around half a ton compared to other racing cars in its field. The carbon fibre features the latest safety practices while giving the crew to move the car easily around the paddock and garage area. Its Hewland 6 speed gearbox give the car efficient gear changes at the flick of its paddle shifter while using 98 octane gasoline for faster engine rpm and rotation. Using an electronic fuel injection and naturally aspirated as well, the car and its Cooper Tire & Rubber Company tires give the car maximum grip, traction, and higher capabilities like never before.  
Community content is available under
CC-BY-SA
unless otherwise noted.