Nationality: American
Engine: Pontiac V8
Power: 500 hp (493.16 bhp) (367.75 kw)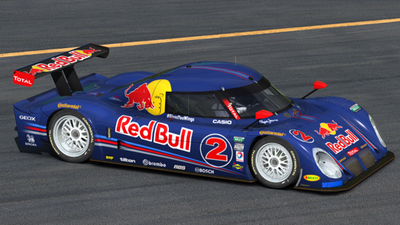 Fuel Capacity: 75.71 liters (20.0 gallons)
Weight: 1031.92 kg (2275 lbs)
Top Speed: 193 mph (311 kmh) 
0-60 mph (0-100 kmh) in 3.7 seconds
Price: $2.95 USD for Riley MkXX Daytona Prototype - 2008
Difficulty: Advanced 
Year: 2008
Type: Prototype Racer
Configuration: Mid-Engine RWD
Bio: Ready for Road Course racing, the MkXX monsters the track like no other prototype machine in racing. Even though this car is not used any longer in Daytona Prototype racing, the MkXX was the product of a long awaited arrivals from Riley Technologies. With the company being founded in 2001 by Bob and Bill Riley, they have come quite a way's in the racing world. By 2008, they started racing in GTLM and GT3 cars to show how much they show their passion of motorsports. Without Riley Technologies, the Daytona Prototype that we know of today couldn't come to fruition without the help of both Bob and Bill Riley.  
Community content is available under
CC-BY-SA
unless otherwise noted.