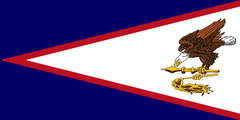 Capital: Pago Pago, American Samoa

Population: 55.1 Thousand
iRacers: 14
Continent: Oceania
Official Languages: English, Samoan 
Area: 77 sq mi (199 km2)
Currency: United States Dollar
Time Zone: UTC-11
Driving Side: Right
Cars: 0
Tracks: 0
Bio: Not far from Samoa, American Samoa is one of the outlying territories that are part of the United States. With a population of under 60 thousand and only 14 iRacers, this little territory out in the Pacific Ocean remains as one of the more interesting places to visit today. This little place is surely full of wonderful splendors.
Community content is available under
CC-BY-SA
unless otherwise noted.