Nationality: British
Engine: V12 DOHC with 4 valves per cylinder
Power: 608.322 hp (600 bhp) (447.4 kw)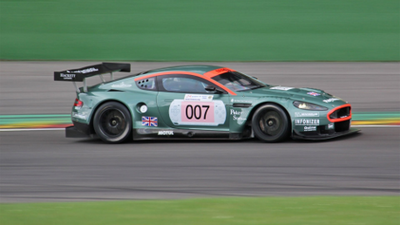 Fuel Capacity: 90.1 liters (23.8 gallons)
Weight: 1170 kg (2579 lbs)
Top Speed: 184 mph (296 kmh) 
0-60 mph (0-100 kmh) in 3.3 seconds
Price: $11.95 USD for DBR9 GT1
Difficulty: Clubman 
Configuration: Front-Engine RWD
Year: 2015
Type: GT1 Racer
Bio: Speed and Power are matched in the form of the DBR9 GT1. The car is designed for Le Mans series racing and a tough breed to beat. The V12 DOHC engine produces over 600 horsepower giving the car weight under 3000 lbs and fast acceleration at the 3 second mark. The aluminium frame with carbon fibre panels lowers the cars weight while its double wishbone with adjustable Koni dampers give the car a more flexible feel. With Eibach springs for its suspension, it shows other racing cars in the GT1 category that this Brit Car is worth staying around.
Community content is available under
CC-BY-SA
unless otherwise noted.