Nationality: German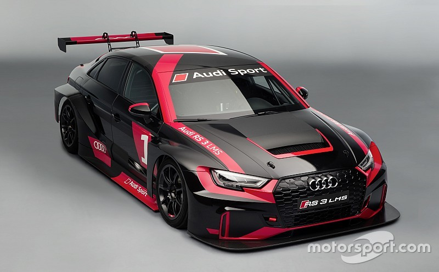 Engine: Turbocharged 4-Cylinder
Power: 350 hp (345.212 bhp) (257.425 kw)
Fuel Capacity: 100 liters (26.42 gallons)
Weight: 1215 kg (2679 lbs)
Top Speed: 152 mph (245 kmh)
0-60 mph (0-100 kmh) in 4.5 seconds
Price: $11.95 for Audi RS3 LMS TCR
Difficulty: Clubman
Type: Touring Car Racer
Configuration: Front-Engine FWD
Year: 2019
Bio: One of the newest brutes to iRacing, the Audi RS3 LMS TCR is ready to tear up the racetrack for spectacular fun. A very sturdy vehicle makes it a truly reliable spectacle for all race fans. The car features McPherson suspension for easy adjustability on the toe, camber, and even the height with multi-link accessibility. A VAQ electro-hydraulic and its 3 modes keep the differential nice and smooth through the cars weight distribution giving it an even keel. With 6-piston caliper brakes for maximum stopping power, this Audi RS3 LMS TCR is ready for any brutal TCR race come shine, night, cloudy, or even rainy weather.
Community content is available under
CC-BY-SA
unless otherwise noted.