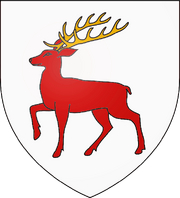 Capital: Kilbrittain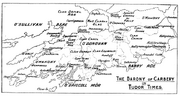 Continent: Asia
Official Languages: Early Modern Irish, Latin
Established: 1262 AD/CE
Disestablished: 1606 AD/CE
History:
Seeds of the later Carbery kingdom began to develop in the 13th century. At 1200, the Ui Chairbre were primarily composed of and ruled by the Ui Donnobhains (now O'Donovans), occupying areas in their historical territory near Adare, Croom and Bruree. In both 1200 and 1205, MacCarthaigs are recorded as being in conflict with the Ui Chairbre.
At that time the Carbery region was still ruled by the powerful Eóganacht Raithlind in the form of the O'Mahonys, and to a lesser but still notable extent by the even more ancient Corcu Loígde in the form of the O'Driscolls. By 1232, Donal Gott MacCarthy and his sons had effected a decisive conquest and effected a major change in their territory. During the remainder of the 13th century, infighting and splintering within the MacCarthaigs led to the establishment of several MacCarthy septs, with territories in Duhallow, Coshmaine, Muscrery and what would become the larger clan lands of MacCarthy Mor and MacCarthy Reagh. By 1283, one of the MacCarthy splinter groups (and which would ultimately become the sept of MacCarthy Reagh) was noted as being part of the Ui Chairbre, when Domnall, son of Domnall Cairprech MacCarthaig, and others of the Uí Chairbri made a treacherous plot against Domnall Mac Carthaig, king of Desmond. The plot failed, and the Ui Chairbre fled, ultimately resettling in Carbery. The many movements of the clans during the 13th century resulted in the relocation of many of the septs in the area, including those of the O'Mahonys, O'Driscolls. The O'Learys of ancient Rosscarbery, close kin to the O'Driscolls, retired northwards to Muskerry sometime around the year 1300.
The source of the naming of the Carberry area has been debated by many scholars, with John O'Donovan arguing it came from the migration of the O'Donovans of Ui Chairbre (and who ignored the MacCarthaig element within the Ui Chairbre), and others, most notably Canon John O'Mahony in his monumental History of the O'Mahony Septs.[8], arguing that the name derived from much earlier (circa 300 A.D) rulers, and from whom descended the O'Driscolls and the O'Mahonys and which occupied the region from the 5th or 6th century AD onwards, in Late Antiquity.
Beginning with the expansion of the MacCarthaig territory in a north east direction in 1259 as certain MacCarthaig septs recaptured a significant amount of land from the Normans, demolished a multitude of their castles, occupying others, and built a considerable string of their own fortresses, the territory of Carbery was expanded to as much as 500 square miles 500 square miles (1,300 km2) by 1500.