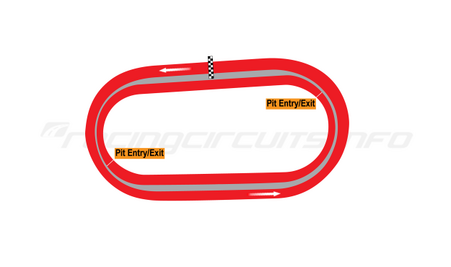 Length: 0.533 Miles (0.858 km)
Turns: 4
Configurations: 1
Pit Road Speed: 35 mph (56 kmh)
Price: $11.95 USD
Track Map ---->  
Owner: Speedway Motorsports, Inc.
Type: Short-Track Traditional Oval
Nicknames: The Last Great Colosseum, Thunder Valley, The Bullring, The World's Fastest Half Mile
Track Changes: 1960, 1969
Opened: July 30th, 1961
Status: Open
Banking:
30 Degrees In Turns 1 And 2
26 Degrees In Turns 3 And 4
10 Degrees On Frontstretch
6 Degrees On Backstretch
Former Names:
Bristol International Speedway (1961 - 1977)
Bristol International Raceway (1978 - 1995)
Bio: Are you ready for intensity on wheels? Welcome to Bristol Motor Speedway! Bristol's 30 degree banked concrete bullring provides some of the sports most exciting fender-banging racing. 162,000 thousand permanent seats and a half mile layout guarantees the crowd is loud and hungry for action.