Nationality: American
Engine: 6.2L V8 with aluminum block and heads
Power: 460 hp (453.71 bhp) (338.33 kw)
Fuel Capacity: 94.64 liters (25 gallons)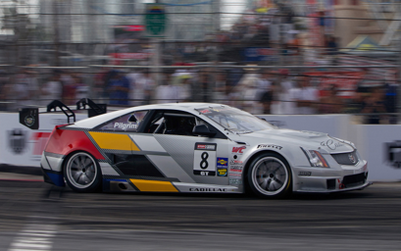 Weight: 1451.50 kg (3200 lbs)
Top Speed: 190 mph (306 kmh) 
0-60 mph (0-100 kmh) in 3.7 seconds
Price: Free for CTS-V Racecar
Difficulty: Clubman
Year: 2012
Type: GT and Prototype Racer
Configuration: Front-Engine RWD
Bio: A 6.2L V8 and over 450 horsepower make the CTS-V Racecar a true GT style racer. Its top speed of almost 190 mph makes it a true racer when always driving on road courses all across the entire world. With a rear wing to provide more downforce for the back end of the car, it still remains a powerful beast today. While the racing modifications have improved its worth to the track, this CTS-V Racecar today has been blown away by newer, more tech-savvy cars of the future for safer but still more dynamic racing.  
Community content is available under
CC-BY-SA
unless otherwise noted.