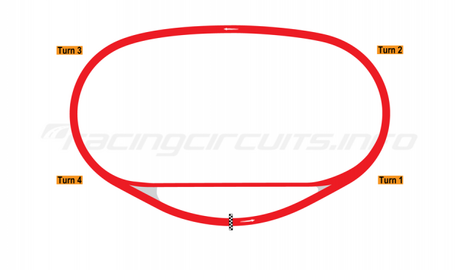 Location: Joliet, Illinois, United States
Length: 1.50 Miles (2.41 km)
Turns: 4
Configurations: 1
Pit Road Speed: 50 mph (80 kmh)
Price: $11.95 USD
Track Map ---->  
Track Changes: 2001
Owner: International Speedway Corporation
Type: Intermediate Tri-Oval
Nickname: The Magnificient Mile and a Half
Banking:
18 Degrees in Turns
11 Degrees on Frontstretch
5 Degrees on Backstretch
Opened: July, 2001
Status: Open
Bio: Hello and welcome to the Chicagoland Speedway. Chicagoland's unique arched backstretch makes it worthy to all drivers and fans. Located on the outskirts of Joliet, action here never sleeps as the cars roar around this one and a half mile tri-oval. Opened less than two decades ago, this unique speedway is becoming one of NASCAR's favorite racetracks.