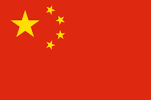 Capital: Beijing, China
Native Name: Zhōngguó
Nicknames: The Red Dragon, The Celestial Empire

Population: 1.4 Billion
iRacers: 243
Continent: Asia
Official Languages: Standard Chinese, Mongolian, Uyghur, Tibetan, Zhuang
Area: 3,705,407 sq mi (9,596,961 km2)
Currency: Chinese Renminbi
Time Zone: UTC+8
Driving Side: Right
Territories: 3
Cars: 0
Tracks: 0
Bio: The most populous country in the world, China and its 243 iRacers might be small compared to its 1.4 billion population but may blossom to thousands as the years roll by. Featuring lots of tradition, culture, and plenty more, this nation does feature a good list of racetracks that may come to iRacing one day. China may be small on iRacers but one day may be big on numbers. Its day will come but time itself will strike the gong when it happens.
Besturn
BYD
Changan
Chery
Geely
Hongqi
JAC
Junpai
Lifan
Lynk & Co
NIO
Qoros
Roewe
Tianjin
Zotye
Flag of China 1889 - 1911
Flag of China 1912 - 1928
Flag of China 1929 - 1949

Now used as the flag of

Taiwan (Chinese Taipei)
Community content is available under
CC-BY-SA
unless otherwise noted.