Location: Concord, North Carolina, United States
Length: 0.50 Miles (0.805 km)
Turns: 3
Configurations: 1
Pit Road Speed: 30 mph (48 kmh)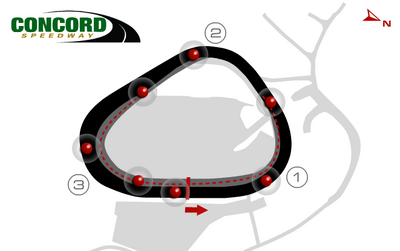 Price: Free
Track Map ---->  
Type: Short-Track Tri-Oval
Owner: Burton Smith
Opened: 1982
Status: Open
Nicknames: World's Fastest Half-Mile Tri-Oval,
The Track Where Grassroots Racing Lives
Banking:
8 degrees in Turns
5 Degrees on Straightaways
Former Names: Concord Motorsports Park (1982 - 2013)
Bio: Located not far from the famous Charlotte Motor Speedway, the Concord Speedway is a half-mile triangle that packs lots of action. The drivers head to this track to stun the crowds at the skills they possess. Featuring tight turns, this tri-oval is a whole other beast that definitely needs taming.