Nationality: American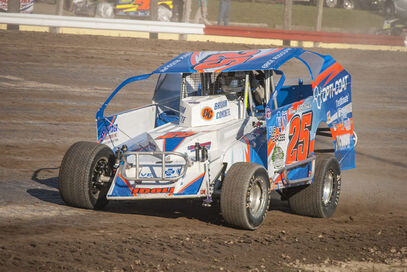 Engine: 358 CID Naturally Aspirated V8
Power: 510 hp (503.023 bhp) (375.104 kw)
Fuel Capacity: 90.85 liters (24 gallons)
Weight: 1157.114 kg (2551 lbs)
Top Speed: 135 mph (217 kmh)
0-60 mph (0-100 kmh) in 3.4 seconds
Price: $11.95 USD for Dirt 358 Modified
Difficulty: Clubman
Configuration: Front-Engine RWD
Year: 2020
Type: Dirt Oval Racer
Bio: The 358 Modified is definitely a new modified on the dirt oval racing scene and with over 500 horsepower it has the oomph to powerslide around any dirt oval racetrack. The car itself is a middle midweight of around 2500 or so pounds but does have a pretty good top speed and acceleration time for a dirt oval racecar. For a car with 24 gallons of fuel and a true beast in its own, the 358 modified is definitely a good learner car if one's dirt oval racing dreams is modified racing instead of late model or sprint car racing on the dirt oval scene.
Community content is available under
CC-BY-SA
unless otherwise noted.