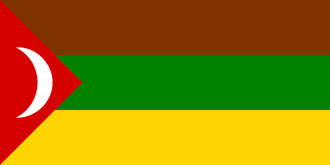 Capital: Suq Abdulla
Continent: Asia
Established: 1680 AD/CE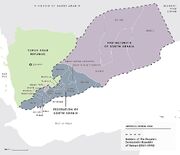 Disestablished: 1967 AD/CE
History:
Bayhan valley historically had several main groups. The Musabein Tribe living in the south which was dominated by Al-Saleh (Ahmed Saif tribe) and the Alfatima (Naji Alawi tribe). These two factions were engaged in constant feuds. Historically the middle of the valley was populated by the Al-Habieli family, descendants of the Prophet, who arrived in the valley in the late 1600s. They had been sent by the Imam of Yemen to protect the trade routes.
The Al-Habieli family are direct descendants of the first, al Hadi Yahya bin Hussein, and seventh, Qassim al Mansur bin Abdullah, Imams of Sana'a.
The north of the valley was dominated by the Balharith Tribe who were also continuously fighting one another as to who was their paramount sheik and like the Masabin also split into 2 main branches.
The ruling Al-Habieli family, recognized by the Hashimite Grand Sharifs of Mecca as related, established themselves as religious leaders in Bayhan in 1680 and became independent. The Hashemite Emirate of Bayhan was included in the Western Aden Protectorate before joining the Federation of Arab Emirates of the South on 11/2/1959 and the Federation of South Arabia on 4/4/1962. The Emirate was abolished by revolutionary Yemen in 7/1967 (the People's Republic of South Yemen on 30/11/1967). Capital was Naqub. Al Amir Talal Saleh Hussein Al-Habieli is current dynastic head of the family.