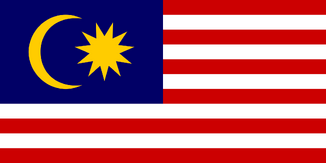 Capital: Kuala Lumpur
Continent: Asia
Official Languages: Malay, English
Established: 1948 AD/CE
Disestablished: 1963 AD/CE
History:
From 1946 to 1948, the eleven states formed a single British crown colony known as the Malayan Union. Due to opposition from Malay nationalists, the Union was disbanded and replaced by the Federation of Malaya, which restored the symbolic positions of the rulers of the Malay states.
Within the Federation, while the Malay states were protectorates of the United Kingdom, Penang and Malacca remained British colonial territories. Like the Malayan Union before it, the Federation did not include Singapore, despite its traditional connections with Malaya.
The Federation of Malaya Agreement was formulated by the British–Malay Pleno Conference between June and December 1946. At the end of the meeting, the Pleno Conference produced a 100-page "Blue Book." It was signed on 21 January 1948 at King House by the Malay rulers, and by Sir Edward Gent as the representative of the British government. The Agreement superseded the Agreement creating the Malayan Union, and prepared for the establishment of the Federation of Malaya on 1 February 1948. The position of the Malay rulers was also restored.
The Federation became independent from British colonial rule and became an independent member of the Commonwealth of Nations on 31 August 1957. In 1963, the Federation was reconstituted as "Malaysia" when it federated with the British territories of Singapore, Sarawak, and North Borneo; a claim to the latter territory was maintained by the Philippines. Singapore separated from Malaysia to become an independent republic on 9 August 1965.