Nationality: American
Engine Straight-Four Turbocharged Engine
Power: 600 hp (591.79 bhp) (447.42 kw)
Fuel Capacity: 28 liters (7.4 gallons)
Weight: 1300 kg (2866 lbs)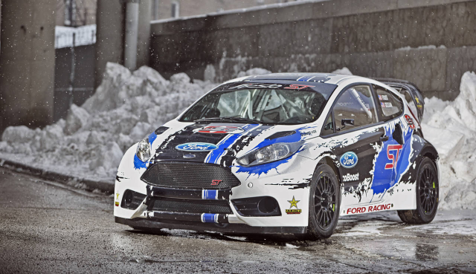 Top Speed: 162 mph (261 kmh) 
0-60 mph (0-100 kmh) in 2.2 seconds
Price: $11.95 for Fiesta ST GRC
Difficulty: Novice
Year: 2017
Configuration: Front-Engine AWD
Type: Rallycross Racer
Bio: The ST GRC throws its power on the dirt and snow like no other rally car. It's quick acceleration makes it's a time punisher in the rally world. Sporting a reinforced multi-point roll cage and a 6-speed M-Sport transmission, it makes acceleration an easy task to accomplish. Using a combination of Michelin, Pirelli, and DMACK tires, the car shines when it tackles asphalt, gravel, dirt, snow and more. Drivers love the car as much as fans love seeing it perform out on the rallycross and rally tracks.  
Community content is available under
CC-BY-SA
unless otherwise noted.