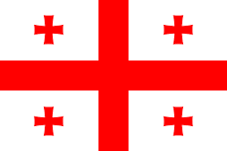 Capital: Tbilisi, Georgia
Native Name: Sak'art'velo
Population: 3.9 Million
iRacers: 14
Continent: Asia
Official Languages: Georgian, Abkhazian
Area: 26,900 sq mi (69,700 km2)
Currency: Georgian Lari
Time Zone: UTC+4
Driving Side: Right
Cars: 0
Tracks: 0
Bio: Located within the Caucasus Mountains, the country of Georgia is one of the many nations where racing has yet to blossom. It does feature one circuit but only one for the time being. With 14 iRacers and a population of just under 4 million, this country does seem to be a new racing frontier for motorsport as a whole.
Previous National Flags:
[
]
Flag of Georgia 1918 - 1921,

1991 - 2004
Previous Georgian SSR (Soviet Socialist Republic) and SFSR (Soviet Federalist Socialist Republic) Flags:
[
]
Note: The flags will be here for historical purposes only.
| | | |
| --- | --- | --- |
| Flag of Georgia SSR 1922 - 1937 | Flag of Georgia SSR 1938 - 1950 | Flag of Georgia SFSR 1951 - 1990 |