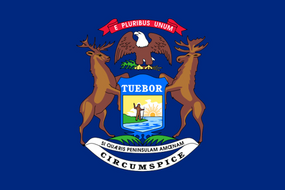 •Capital: Lansing, Michigan, United States
Population: 10.1 Million
Symbols: Robin Redbreast, Brook Trout, Apple Blossom, White-Tailed Deer, Isle Royale Greenstone, Painted Turtle, Kalkaska Soil Series, Petoskey Stone, Eastern White Pine, Dwarf Lake Iris
Nicknames: The Great Lake State, The Wolverine State
•Total Amount Of Manufacturers: 4
•Total Amount Of Cars: 33
•Car Horsepower Range: 177 hp to 875 hp
•Price Range: Free to $11.95
•Cars That Come With Base Subscription: 12
•Car Types Involved: NASCAR, Prototypes, Sports Cars, Rally, Rallycross
•Fastest Car: NASCAR Sprint Cup Impala COT – 2013
•Slowest Car: NASCAR Gander Outdoors Dirt Silverado
•Car Configurations: Front-Engine RWD, Mid-Engine RWD, Front-Engine AWD 
Bio: A well-known automaker in the racing world, Pontiac is still throughout all these many years still located in Michigan. The trust that its earned over the years makes this racing company a very well known brand in the racing world. 
•Total Amount Of Tracks: 4
•Track Length Range: 1.5 Miles (2.42 km) to 2.36 Miles (3.798 km)
•Price Range: $4.95 to 14.95
•Tracks That Come With Base Subscription: 1
•Track Types Involved: Ovals, Street Circuits, Offroad Trucks
•Longest Track: Detroit Belle Isle
•Shortest Track: Bark River International Raceway
•Track Configurations: 1
Total Configurations: 4
Bio: A high speed speedway with great action for the entire crowd, Michigan knows how to get it done. With the Michigan International Speedway and the Detroit Belle Isle, this state is proud of its 2 mile racetrack home to the automobile industry.
Total: 33 Cars
Total: 4 Manufacturers
Auto City Speedway
Berlin Raceway
Butler Motor Speedway
Crystal Motor Speedway
Dixie Motor Speedway
Flat Rock Speedway
Galesburg Speedway
Gingerman Raceway
Grattan Raceway Park
Hartford Speedway
I-96 Speedway
Jackson Speedway
Kalamazoo Speedway
M-40 Speedway
Moltville Speedway
Merritt Speedway
Mid-Michigan Raceway Park
Mt Pleasant Speedway
Onaway Motor Speedway
Owosso Speedway
Silver Bullet Speedway
Spartan Speedway
Springport Motor Speedway
Tri-City Motor Speedway
Thunderbird Speedway MI
Upper Peninsula International Raceway
Waterford Hills Raceway
Whittemore Speedway
Winston Speedway
Combined Total: 33 Tracks
Community content is available under
CC-BY-SA
unless otherwise noted.