Location: Brooklyn, Michigan, United States
Length: 2.0 Miles (3.21 km)
Turns: 4
Configurations: 1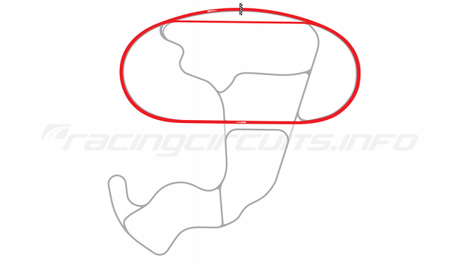 Pit Road Speed: 55 mph (88 kmh)
Price: Free
Track Map ---->  
Type: D-Shaped Intermediate Oval
Owner: International Speedway Corporation
Track Changes: 1968, 1972, 1973, 1994, 1995
Former Names: Michigan Speedway (1996 - 2000)
Nickname: Wide and Fast
Opened: October 13th, 1968
Status: Open
Banking:
18 Degrees in Turns
12 Degrees in Tri-Oval
5 Degrees on Backstretch
Bio: This is the Michigan International Speedway, home to the automobile industry and some great competition. If you like three and four wide racing, then Michigan's your track. This two mile tri-oval allows for great action with its high banks and wide surface. Located just outside the Motor City, drivers are always hoping to put on a great show for the auto industry here.