Location: Myrtle Beach, South Carolina, United States
Length: 0.56 Miles (0.90 km)
Turns: 4
Configurations: 1
Pit Road Speed: 35 mph (56 kmh)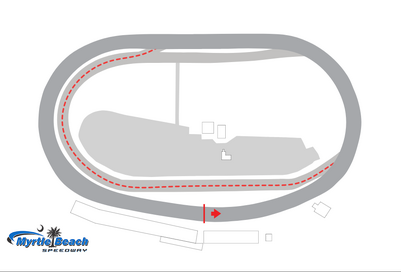 Price: $11.95 USD
Track Map ---->  
Type: Short-Track D-Shaped Oval
Former Name: Rambi Raceway (1958 - 1965)
Seating Capacity: 12,000
Track Changes: 1958
Opened: 1958
Closed: August, 2020
Status: Defunct
Difficulty: Novice
Owner: Speedway Group Inc.
Banking:
13 Degrees in Turns
4 Degrees on Frontstretch
3 Degrees on Backstretch
Bio: Since opening in 1958 and through its transition to pavement in 1974 until its closure in 2020, Myrtle Beach Speedway was not only the scene of great weekly action but, a springboard for stock car racing royalty. The half-mile D-shaped oval is not anything new to the oval racing world but remains quite an adversary to short-track racing. With the track closed since August 2020, this South Carolina racetrack will definitely be missed.
Previous Track Logos:
[
]
| | | |
| --- | --- | --- |
| Myrtle Beach Logo 1958 - 1965 | Myrtle Beach Logo 1966 - 2001 | Myrtle Beach Logo 2002 - 2011 |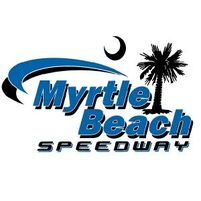 Myrtle Beach Alternate 2012 - 2020 Logo