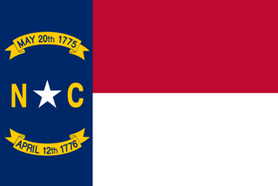 •Capital: Raleigh, North Carolina, United States
Population: 10.7 Million
Symbols: Strawberry and Blueberry, Milk, Northern Cardinal, Venus Flytrap, Fraser Fir, Dogwood, Southern Appalachian Brook Trout, Pine Barrens Treefrog, Scuppernong Grape, Colonial Spanish Mustang, Honeybee, Gray Squirrel, Virginia Opossum, Gold, Emerald, Eastern Box Turtle, Marbled Salamander, Channel Bass, Pine Tree, Sweet Potato, Carolina Lily
Nicknames: The Tar Heel State, The Old North State
•Total Amount Of Manufacturers: 6
•Total Amount Of Cars: 19
•Car Horsepower Range: 122 hp to 892 hp
•Price Range: Free to $11.95
•Cars That Come With Base Subscription: 7
•Car Types Involved: NASCAR, Dirt Ovals, Prototypes
•Fastest Car: NASCAR Monster Energy Cup Fusion
•Slowest Car: Dirt Legends Ford '34 Coupe
•Car Configurations: Front-Engine RWD, Mid-Engine RWD, Front-Engine AWD 
Bio: Being the major hub of all American racing cars today, North Carolina reigns supreme. With nearly 10 manufacturers and over 20 racecars, this state has shown to the others that "Might Is Right" after all. 
•Total Amount Of Tracks: 9
•Track Length Range: 0.25 Miles (0.40 km) to 2.42 Miles (3.89 km)
•Price Range: Free to $14.95
•Tracks That Come With Base Subscription: 4
•Track Types Involved: Ovals, Rovals, Dirt Ovals, Rallycross
•Longest Track: Charlotte Motor Speedway
•Shortest Track: Hickory Motor Speedway
•Track Configurations: 1 – 7
Total Configurations: 22
Bio: Home to the majority of NASCAR's teams, North Carolina is a mecca for oval racing as we know it today. Featuring its famous Charlotte Motor Speedway, North Carolina to this date aims to keep on pleasing people.  
Total: 19 Cars
Total: 6 Manufacturers
Ace Speedway
Antioch Speedway
Bowman Gray Stadium
Carolina Speedway
Caraway Speedway
Coleridge Speedway
County Line Raceway
Dixieland Speedway
East Carolina Motor Speedway
East Lincoln Speedway
Fayetteville Motor Speedway
Friendship Motor Speedway
Halifax County Motor Speedway
Harris Speedway
Millbridge Speedway
Mountain Creek Speedway
Mountain View Speedway
Orange County Speedway
Rockfish Motorsports Speedway
Tri-County Motor Speedway
Wake County Speedway
Woodleaf Raceway Park
Combined Total: 31 Tracks
| | |
| --- | --- |
| Flag of North Carolina 1861 - 1884 | Flag of North Carolina 1885 - 1991 |
Community content is available under
CC-BY-SA
unless otherwise noted.