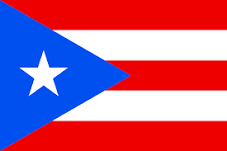 Capital: San Juan, Puerto Rico
Population: 2.8 Million
iRacers: 75
Continent: North America
Official Languages: Spanish, English, French  
Area: 3,515 sq mi (9,104 km2)
Currency: United States Dollar
Time Zone: UTC-4
Driving Side: Right
Cars: 0
Tracks: 0
Bio: The American territory with the highest population and iRacers, Puerto Rico just near the Dominican Republic and the British Virgin Islands still resides. With about 3 million people and 75 iRacers, Puerto Rico is quite interested into sim-racing as the island territory looks to become more involved into motorsport in the near future.
Flag of Puerto Rico 1895 - 1952
Community content is available under
CC-BY-SA
unless otherwise noted.