Location: Richmond, Virginia, United States
Length: 0.75 Miles (1.21 km)
Turns: 4
Configurations: 1
Pit Road Speed: 40 mph (64 kmh)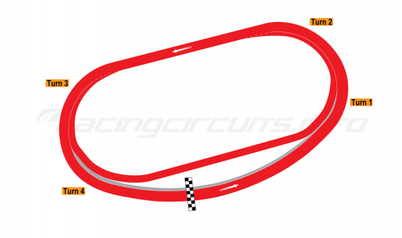 Price: $11.95 USD
Track Map ---->  
Type: Short-Track D-Shaped Oval
Track Changes: 1968, 1988
Opened: October 12th, 1946
Status: Open
Banking:
14 Degrees in Turns
8 Degrees on Frontstretch
2 Degrees on Backstretch
Nicknames: Strawberry Hill, Action Track, America's Premier Short Track
Former Names:
Atlantic Rural Exposition Fairgrounds (1946 – 1955)
Atlantic Rural Fairgrounds (1955 – 1963)
Virginia State Fairgrounds (1964 – 1968)
Richmond Fairgrounds Raceway (1969 – 1988)
Richmond International Raceway (1989 – 2017)  
Bio: Whether under the lights or the bright sun of day, the Richmond Raceway is home to excitement. The "Action Track" as its known, combines the best of both worlds, superspeedway speeds and short-track action. At three quarters of a mile on length, it's not unusual to witness tempers flaring at Richmond.