Nationality: American
Engine: 1.9 Liter Fuel-Injected SOHC 8 Valve Hemi
Power: 105 hp (103.564 bhp) (77.277 kw)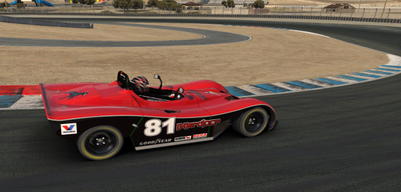 Fuel Capacity: 26.50 liters (7.0 gallons)
Weight: 757.50 kg (1670 lbs)
Top Speed: 128 mph (206 kmh) 
0-60 mph (0-100 kmh) in 6.3 seconds
Price: Free for Spec Racer Ford
Difficulty: Rookie
Year: 2009
Configuration: Mid-Engine RWD
Type: Beginner GT and Beginner Prototype Racer
Bio: A lightened racer, the Spec Racer Ford combines Solstice and Legends car attributes for a balanced feel. With a fuel capacity of 7 gallons and weight under 1700 lbs this Spec Racer Ford is quite a light car on its feet. Even though its 0-60 mph acceleration time is a rather slow 6.3 seconds, for many drivers thats quite alright with them. The car is built on a tube frame chassis with a fiberglass, 3-section body. The suspension is a front/rear rocket arm with coil-over shock/springs that contains a lower "A" arm with also dual externally adjustable anti-roll bars for maximum car handling, stability and also driver safety. Using Continental Tire radial-ply spec tires with dry and rain versions available, this car is ready for any racetrack that it goes to and always brings in a good crowd for all to enjoy.  
Community content is available under
CC-BY-SA
unless otherwise noted.