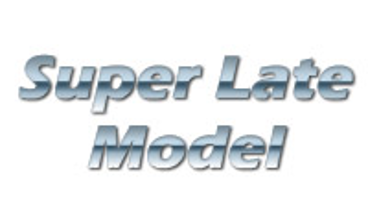 Nationality: American
Engine: 358 Cubic Inch, OEM Cast-Iron Block 90 Degree V8
Power: 557.63 hp (550 bhp) (410.14 kw)
Fuel Capacity: 83.28 liters (22.0 gallons)
Weight: 1270.06 kg (2800 lbs)
Top Speed: 186 mph (299 kmh) 
0-60 mph (0-100 kmh) in 3.6 seconds
Price: $11.95 for Super Late Model
Difficulty: Clubman 
Configuration: Front-Engine RWD
Year: 2013
Type: Oval Racer
Bio: Speed and handling meet together in the Super Late Model. This 557 horsepower engine gives drivers a handful when out on the track. Being a higher powered version of the standard Asphalt Late Model, this vehicle with its 358 Cubic Inch OEM Cast Iron Block 90 Degree V8 engine makes it a true powerful beast. Its 22 gallon fuel tank with its 2800 lb weight makes it a rolling target on the track. Its 0-60 mph acceleration time of around 3.5 seconds makes it a quick oval car to those that drive it. Being part of the United States National Touring Series, this car has been truly one of the greatest oval cars that has ever graced the stock car asphalt oval name and tradition of its time.
Community content is available under
CC-BY-SA
unless otherwise noted.