Length: 0.38 Miles (0.60 km)
Turns: 4
Configurations: 1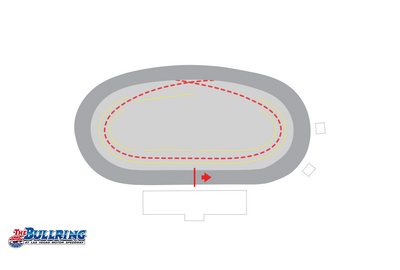 Pit Road Speed: 30 mph (48 kmh)
Price: $11.95 USD
Track Map ---->  
Type: Short-Track D-Shaped Oval
Owner: Speedway Motorsports, Inc.
Track Changes: 1985, 1995, 1996
Former Names:
The Speedrome (1985 - 1995)
Opened: 1985
Status: Open
Banking:
8 Degrees in Turns
0 Degrees on Straightaways
Bio: The Bullring at Las Vegas Motor Speedway is racing's answer to truth in short track action. This little circuit is located a stone's throw away from the mile and a half tri-oval that is Las Vegas Motor Speedway. With just under 10 degrees of banking, The Bullring is an asphalt oval that's short on distance, but long on action with great short-track competition.