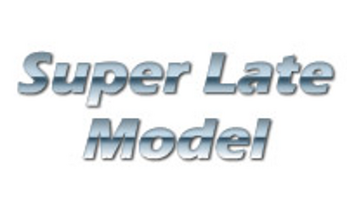 Nationality: American
Engine: 358 Cubic Inch, OEM Cast-Iron Block 90 Degree V8
Power: 557.63 hp (550 bhp) (410.14 kw)
Fuel Capacity: 83.28 liters (22.0 gallons)
Weight: 1270.06 kg (2800 lbs)
Top Speed: 184 mph (296 kmh)
0-60 mph (0-100 kmh) in 3.6 seconds
Price: $11.95 for Updated Super Late Model
Difficulty: Clubman
Configuration: Front-Engine RWD
Year: 2021
Type: Oval Racer
Bio: For a new car, the Updated Super Late Model is definitely going to become quite a short track oval racing powerhouse in the near future. With the same 358 Cubic Inch engine from its older gen Super Late Model, the car also carries the same amount of horsepower, fuel capacity, weight, and 0-60 mph (0-100 kmh) acceleration time so this car shouldn't be a stranger to those already comfortable with such a powerful vehicle. The difference with this car is a new aerodynamic look, a different cockpit layout and a slightly lower top speed which plays a factor in the short tracks that it runs at. For others out there that aren't used to the super late models, it may take time to get used to them if those drivers are already used to the Chevroelt Monte Carlo SS Late Model.
Community content is available under
CC-BY-SA
unless otherwise noted.